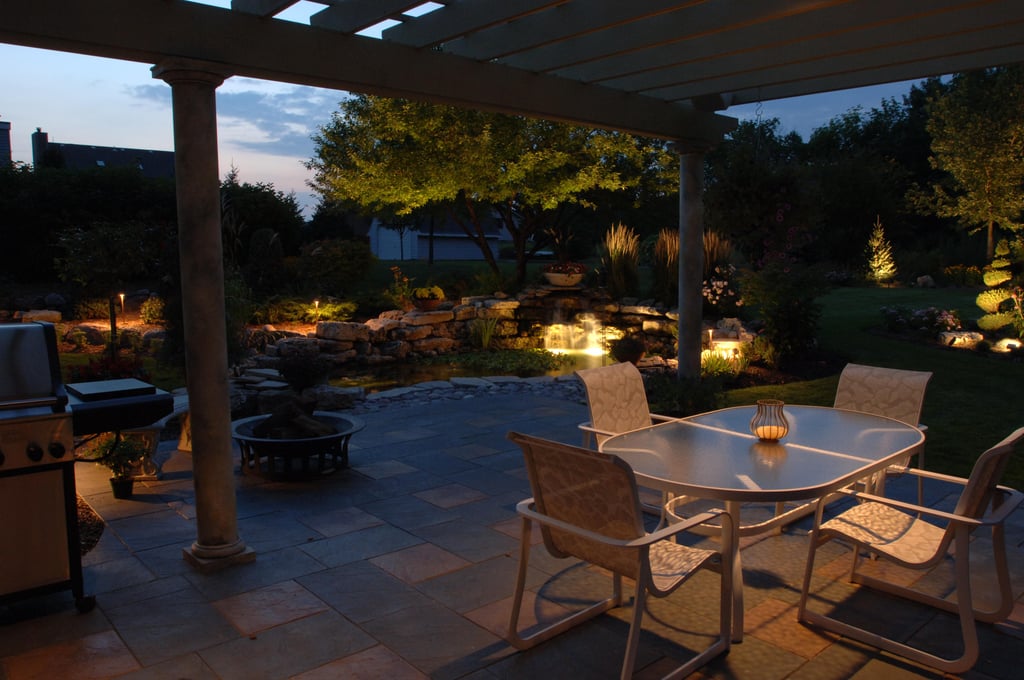 As warm weather comes to Madison, everyone is eager to enjoy the outdoors. Homeowners have many ways to enhance their own backyards—through landscaping, outdoor lighting, decks, and patios—that can provide
a perfect place to entertain, relax, and reconnect with nature.
For Angela Lingle, co-owner of World Class Outdoor Lighting, a home's landscaping is not complete without installing the proper lighting. "It makes a night-and-day difference," she says, "adding beauty to the home, increasing security, and ultimately increasing the property value."
Lingle says most of her outdoor lighting clients are homeowners who have been in their houses for three to five years. "When people build homes, they often budget for the house and minimal landscaping; outdoor lighting isn't factored in," she says. "But once the lawn, trees and other plantings have really settled in, homeowners are ready to make an investment in lighting—one that will dramatically enhance the look of the home's exterior."
Although outdoor lighting options are available for do-it-yourselfers in large hardware stores, the quality of the fixtures that World Class Outdoor Lighting can offer is dramatically better, according to Lingle. Also, her company is able to work with homeowners onevery step of the process from design to installation to maintenance. And, with a ten-year warranty on all fixtures, World Class Outdoor Lighting can service the product and ensure that it continues to complement the home, showing it— literally—in its best light.
The company uses energy-efficient LED lights with bulbs that last from seven to eight years. "Most of our lighting effects come from three fixtures: up-lighting to focus on beautiful homes and trees, inviting pathway lighting, and down-lighting to accent a deck or pier," Lingle says. "We also install light fixtures for outdoor kitchens, railings and decks. They really give houses a 'wow' factor."
Lingle notes that much of her business comes from neighbors, who notice a nearby house with newly installed outdoor lighting. "When we finish a project, all the neighbors surrounding our client call us, because it really beautifies the home. It's more fun to come home at night when the house is all lit up," she says. "I love being part of that process: helping people enjoy their homes to the fullest."
Discover the Pleasure of Outdoor Living in Your Own Backyard, a World Class Outdoor Lighting article written by Angela Lingle, was featured in May's edition Habitat Handbook in Madison Magazine.